You are here:
Home
1
/
Team Elite
Russell Jacobs
Team Elite
My passion for fishing was influenced by my father. He moved my brothers and I from Arkansas to Pensacola Florida at a young age where we spent countless hours fishing from piers, bridges, grass flats and beaches. During sunrises, I am often reminded of the sun rising over the Pensacola Beach bridge while waking up on the seawalls of Ft. Pickens.
I now live in the Tampa Bay area with my beautiful wife, daughter and two dogs that keep me grounded when I am not on the water. My passion for fishing quickly grew into an obsession. I am a, wake up and get to the water daily type. Some of my favorite ways of fishing are Sight Fishing, Fly Fishing, using Topwaters, and every so often chasing Monster fish using Monster baits. In the past few years my passion for inshore fishing has taken over. I now run a kayak guide business, Active Angler Kayak Guide, out of the Tampa Bay waters and fish every tournament that I am presented with. I'm constantly wanting to learn more and improve my game to the level of some of saltwater's greatest fisherman.
I leave the launch with one fish in mind 90% of the time, REDFISH. Tampa is great, you can target Redfish all year with great success. It is also the species that most major inshore saltwater tournaments require at weigh in. Thanks to RCI Optics I now can see all the details that improve my time on the water. Whether it be a tail popping up through a light chop in the water or a laid up fish in a sand hole, I now have a distinct advantage while I'm fishing for these shallow water fish. I slide my RCI's over my eyes a little after sunrise and don't remove them until I am home most days.
RCI Optics
Paul Alderman
Team Elite
My Name is Paul Alderman. I am 26 years old. And I am living the dream. I am one of the blessed few that get paid to travel and do the things I love to do.
I was lucky enough to be born and raised in a place that creates a unique breed of outdoorsmen. Central Florida was paradise for a kid that never wanted to be indoors. I grew up splitting my time between the woods, rivers, lakes, swamps, and the ocean. The weather would determine whether I was poling up on tailing redfish, live-baiting tarpons, sitting in a tree stand, or paddling around on a surfboard. And I'm happy to say that not much has changed over the years. I've just continued to learn and grow from my outdoor lifestyle.
My career began to take shape early in high school when I started working on charter fishing boats around Port Canaveral. I'm thankful for the really talented older generation of guys that mentored me. I soaked up every ounce of wisdom they were willing to give. I was just like a sponge, and I fished every opportunity possible. I fished charters and local tournaments all through high school and college. Over the years I met a ton of great customers and inevitably started having more and more success. Eventually I started getting hired to fish with really talented offshore tournament teams.
I am currently working on an 85' sport fishing yacht called El Cazador. I get to travel to exotic locations and compete in some of the most prestigious fishing tournaments in the world. This year I get to test my skills against the best anglers in the world at the Offshore World Championship in Costa Rica. Winning an invitation to this event was a huge honor and I plan on making a great showing. They say a bad day on the water is better than a good day at work. Well it is my work. Life is good when billfish pay the bills. I'm extremely grateful to live in a world where I get paid to chase the fish of a lifetime.
When the boat is at the dock, you can still find me on the water or in the woods around Central Florida. I hope to see you out there!
RCI Optics
Austin Lowery
Team Elite
Austin Lowery
As far back as I can remember, my father had a fishing pole in my hands . Freshwater brim and speckled sea trout planted the seed of what is my passion for fishing today. Looking back on my childhood, It reminds me of how blessed I am to have grown up in Central Florida. Cruising down a mangrove, covered salt marsh, or running the airboat through the shallows of the St. John's River makes me feel right at home! Today, my fishing journey has given birth to the love of fly fishing. Everything about fly fishing keeps me super excited. From sitting at home tying flies, to casting on a hungry predator, watching the eat, the sound of the drag, then giving back the release, keeps me coming back for more. Anticipation and adrenaline rushes, associated with feeding shallow water fish, a home made fly never gets old. Thanks to RCI Optics less fish can go unseen, meaning more chances of getting that perfect shot on a targeted swimming creature. I thank God for my sight and I hope there are many more years to experience this wonderful world He has created.
RCI Optics
Alan Ryland
Team Elite
Living in Florida my entire life, I currently reside in Melbourne on the East Central Coast. My passion, second only to my family, is the sport of inshore fishing on the Indian & Banana Rivers and Mosquito Lagoon. Along with recreational fishing, I'm also an avid inshore tournament angler, fishing for "Team SeaDek Marine Products". Currently I compete in the Power-Pole FL Pro Redfish Series, the IFA (Inshore Fishing Association) Redfish Tour, and the Bossman Redfish Series, along with the occasional local and charity tournaments. I also throw in a little fresh water fishing from time to time, along with waterfowl and turkey hunting.
Sponsor/Team Affiliations: RCI Optics, SeaDek Marine Products, Power-Pole Shallow Water Anchor, Slayer Inc Lure Company, RedZone Apparel, Yak Gear/RailBlaza, Tailin Toads, and Yeti Coolers.
Email – aryland3@cfl.rr.com
RCI Optics
Josh Hendry
Team Elite
Josh Hendry
Born and raised in Satellite beach, Florida; my childhood was spent fishing for anything I could get to eat a hook, not excluding the silver dollar sized tilapia that resided in the drainage ditch a short walk from my house. My fate was then sealed at the early age of ten when I successfully fed and caught my first redfish on a fly. Most of my adolescence was spent lugging gheenoes, kayaks, and any other watercrafts my friends and I could triumphantly haul to any nearby piece of water. At sixteen, I was introduced to Mosquito Lagoon and could finally access the famed redfish waters in north Brevard on a regular basis. I haven't looked back since. I have spent the Last five years of my life pursuing redfish wherever my boat will float, and trust me, that's damn near everywhere.
I have been in the fly-fishing industry as a shop worker for the last two years and from this point forward will be spending my summers in Alaska, guiding for salmon and trout.
RCI Optics
Pepi Vidal
Team Elite
Capt. Pepi Vidal
Grew up fishing the waters of the Florida Keys, Flamingo, and Miami. After 40 years in South Florida, decided to pick up and move my family (wife and triplets) to the beautiful Space Coast of Florida. Most of my fishing nowadays is either on the Indian River, Banana River, or Mosquito Lagoon chasing redfish. Most of the year I'm involved in many tournament trails around Florida chasing redfish and competing against the best redfish fisherman in the state. If I'm not fishing, then it must be duck hunting season. During the months between November and January, you will find me in a duck blind somewhere on the St. Johns River.
RCI Optics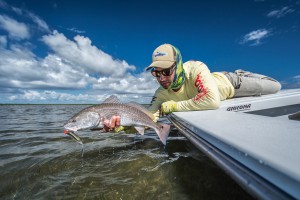 Gus Montoya
Team Elite
Gus Montoya, a local Miami native, and one of the founders of Team AweSon, has had the passion for fishing since his younger years. It all started by catching local South Florida exotics such as the Butterfly Peacock Bass, later on moving into inshore kayak fishing, then gradually leading to his knowledge now of inshore/ back country fishing. Born in Queens, New York, but raised in beautiful South Florida, he now targets Snook, Tarpon, Sea Trout, Black Drum, and his all time favorite, Red fish. The passion and concern of conservation has been his key points in his fishing career. With his later future of being an inshore/back country charter captain, the attribute of conservation on his resume is his main concern. While not on the water, he loves being outdoors with his soon to be wife, traveling, and sitting behind the lens of his camera. He loves fishing with his Teammates Mike, Jason, and Nick and just simply being on the water with whoever shares the same passion of fishing as him! Tight lines….=
RCI Optics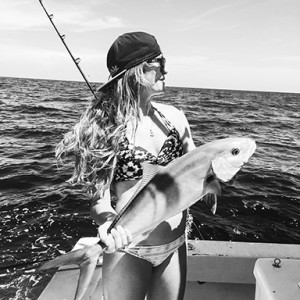 Lexi Lou
Team Elite
My name is Lexi, more commonly referred to as "Lexi Lou". I am pleased to say I come from a very tight-knit family of two brothers and a wonderful mom and dad. I am a shameless daddy's girl who is the main person to blame for my affinity for the ocean. As a kid I was always involved with some type of activity on or near the water. Whether it was knee-boarding, catching minnows and frogs, or looking for sharks' teeth on the beach. However, majority of the time you could find me with a rod in my hand, even if it was catching bream on bread balls. I started out bass fishing and on the flats, then ventured offshore at the age of six when we got our first offshore boat. Upgrading In 2001, we found the boat now named the "Lexi Lou Too", and she has been a part of our family ever since. She is responsible for countless offshore adventures, trips to the Bahamas, and endless fish stories. I can honestly say I am blessed to live the life that I do and embrace the opportunities that I have been given, and I would not change it for the world.
RCI Optics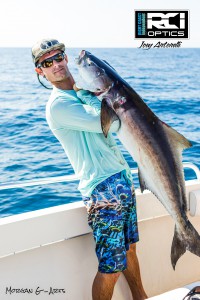 Joey Antonelli
Team Elite
Joey was fishing before he could walk. Some of his earliest memories are of his father, Pop-Pop, and Uncle Matt leading the whole family in a day of beach fishing. Those beach fishing adventures are the solid foundation Joey built his entire fishing lifestyle on. Now he lives in Indialantic, Florida and fishes and spearfishes more than ever. Most of the fishing Joey does is nearshore and offshore. He makes a point of having a camera on board to capture his excursions on film, which is good, because things can get a bit interesting when you're in a 12-foot aluminum boat eight miles from shore.
You can follow Joey on Instagram. - @h2ovinyldesigns
Check out more of his pictures, videos, and fishing reports. - www.eastsidefishing.com
Also, if you need any vinyl stickers made, he's your guy. - www.h2ovinyldesigns.com
RCI Optics
Chad Money
Team Elite
Being fortunate enough to be born and raised in Central Florida, and moving to the coast at the age of 8. I was able to be immersed, into a life on the water. Having the ocean and river as a playground, was a gift I took full advantage of.
As a kid fishing... I was stoked to catch anything that would bite! But, when I first fished the Mosquito Lagoon, I knew I had found my true happy place. Fishing the shallow flats and seeing and catching, what seemed like endless, huge tailing red fish and drum... was the most exhilarating, heart pounding experience I'd ever had. Fast forward, many years and having since picked up a fly rod, and sight-fishing the flats of the East Coast of Central Florida... still gives me that exact same rush.
I look forward to challenging myself, with new areas and targeting new species, in the future... and meeting great, like-minded, people along the way!
Cheers everyone! To a happy and tight lined 2016!!
RCI Optics
Nick Burley
Team Elite
Nick Burley of TeamAweSon, originally from Virginia has resided in South Florida for over 10 years. As a child he found a love for the outdoors fishing for trout in the Blue Ridge Mountains. Now he hones his skills on the many exotic freshwater fish and trophy inshore fish South Florida and the Keys offer.
RCI Optics
Sean Strahlo
Team Elite
The ocean has always been an integral part of my life. My earliest memories as a child are those spent fishing alongside my dad. I am a native Floridian, born and raised in Melbourne since '93. Growing up most of my friends wanted to be firefighters, astronauts, doctors, etc. I wanted to be Jose Wejebe. I idolized him. His knowledge and passion for the ocean was contagious. By the age of 13, I spent the majority of my free time on the water. My summers were spent fishing and diving from Alaska to Key West. If the ocean was blown out, I would skimboard, wakeboard, body surf, skate, and play soccer.
One of my favorite aspects of the fishing industry is all the interesting people I've been blessed to meet over the years, many of whom are still close friends of mine. I've been fortunate enough to work with many industry leaders (like RCI Optics) and I look forward to furthering my friendship with the company and rocking the highest performing sunglasses on the market.
RCI Optics