Team Ambassador Capt. Stephen Ferrell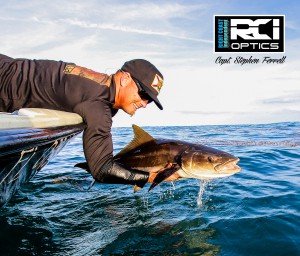 Capt. Stephen Ferrell
Team Ambassador ~ Capt. Stephen Ferrell
RCI Optics
I was born in Jacksonville FL and grew up between Jacksonville and Ft. Lauderdale FL. I now proudly call Melbourne Beach my home. My first fishing experience was at a local pond catching Bream with a family friend at the age of five. Growing up in Florida and being surrounded by water gave me the ability to fish almost every day and forced me to develop a connection with the water that I will never lose. Now and even in my youth I was an advocate for catch and release to ensure a healthy fishery for our future. I grew up fishing mostly for Largemouth Bass, Snook or Peacocks in the canals and lakes of South Florida, I would spend summers and holidays in Jacksonville FL fishing the St. Johns River for Redfish, Flounder and many other species, in the summers we would cast net buckets of tasty shrimp as they were making their way toward the Atlantic.
My friends and I would often ride our bicycles for miles upon miles to find new waters to explore and fish, always returning home with great stories and new fishing knowledge. Still to this day I feel the need to fish and explore new places and environments and with the help of my Canyon Bay 2470 bay boat, Carolina Skiff J16, Tracker Grizzly 1754, a 16′ canoe and a 12′ Bote HD paddle board , almost all waters are accessible to me. I have been fortunate enough to travel to many great fishing destinations in the North America and in doing so I have caught Steelhead off the Great Lakes, Rainbow and Brown Trout from Georgia to Alberta, Stripers in California, Smallmouth in the Finger lakes of NY and the list goes on, but after fishing all of these great places no place compares to my home waters of Florida. Delivering a perfectly casted lure or fly to a Redfish, Snook, or Trout on a shallow flat is a hard thing to beat, but I also enjoy near shore sight fishing for fish such as Tripletail and Cobia.
Everglades National Park is one of my all-time favorite destinations for sight fishing; it is truly "wild" Florida and has some of the most diverse fishing one can experience. Eventually I hope to one day travel to Australia to target Barramundi and Giant Trevally along with the many other impressive game fish from the area. Although fishing is my number one passion I also enjoy surfing and have traveled to many places including Mexico, Costa Rica, Ecuador, and Puerto Rico hoping to find those perfect waves, but would always find room in my board bag for a rod or two.