Team Ambassador Capt. Willy Le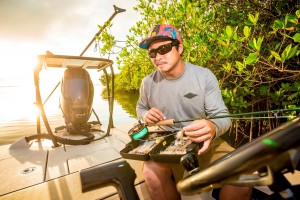 Capt. Willy Le
Team Ambassador
RCI Optics
The Interview
Q. Where were you born?
A. A little island in the South Pacific called Guam, but backround is Vietnamese.
Q. Where did you grow up?
A. We left Guam when I was 1 year old and came to Orlando, Florida where I grew up.
Q. Where do you live now?
A. Merritt Island, Florida.
Q. What is your earliest fishing memory?
A. My earliest fishing memory is when I caught my first largemouth bass in a nearby pond with my brothers when I was a super grom in the mid 80's. We used to sight fish them along a bank using minnows and grass shrimp that we would dip up with a small net. Back then, it got my blood pumping when I watched a bass eyeball my bait, then slowly creep up to it and inhale it. It still gets my blood pumping to this day when I watch a redfish or tarpon do the same on a fly or artificial lure.
Q. Who or what was your biggest fishing influence?
A. My biggest fishing influence would be my late uncle. He fished a lot and used to make cast nets. He was the one who taught me how to throw a net at a very young age, i dunno i was like 6 or 7 years old. I still throw a net the way he taught me to this day, "Vietnamese Style" where you use your shoulder and not your teeth.
Q. What is your favorite species to target
A. My favorite species to target would probably be Tarpon on a fly rod. Something about the way they track a fly to the boat before inhaling it, then exploding the water as it makes giant leaps after it is hooked…that's intense!
Q. What is your most memorable fishing experience?
A. The most memorable fishing experience would be back in 1997 when I went on my first mission to the Mosquito Lagoon in my 10ft aluminum jon boat with a buddy of mine. I drove down dirt roads until I could find a nice place to put in at. We had to dodge a few alligators while dragging the boat down to the water. Once we were on the slick calm water and paddled a short distance, I saw nothing but tails waving around. That was the first time I saw tailing redfish and we ended up slaying them on topwater lures. We also seen a bunch of 20-40lb tarpon rolling in a deeper cut which we did not get any to eat. I wish I knew what I know now back then.
Q. What has been your worst fishing experience?
A. There is no bad fishing experience. As long as I'm on the water away from society, I am happy and at peace. If there was to be a bad day, then it would be when it is pouring rain, super windy, and lightning.
Q. What are some of your other interests?
A. Surfing, Skateboarding, Photography, Designing, Culture, Food, Music, Martial Arts and spending time with friends and family.
Q. What or where would be your dream fishing trip?
A. My dream fishing trip is here in Florida. I am already living my dream…we are blessed with what we have here from the big redfish in Mosquito Lagoon to the variety of fish in the Florida Keys and Everglades.
Q. What are some of your favorite places to fish?
A. My favorite places to fish is the Florida Keys, Everglades, and my backyard which is the 1,000 islands of Cocoa Beach.
Q. What are you currently fishing out of what boat or boats?
A. Currently i am fishing out of a 2015 Maverick 18 HPX-V.