Team Ambassador Honson Lau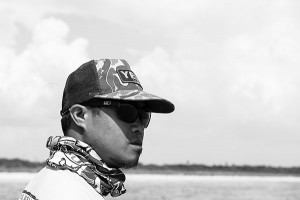 Capt. Honson lau
Team Ambassador
RCI Optics
The Interview
Q. Where were you born?
A. I was born in Los Angeles, CA. Surprised?
Q. Where did you grow up?
A. I grew up between Miami and Islamorada. I used to spend a lot of weekends down in the Keys as a kid which I think contributed greatly to my fondness for the water.
Q. Where do you live now?
A. I currently reside in Miami, FL. in part of town neighboring the Florida Everglades.
Q. What is your earliest fishing memory?
A. My earliest fishing memory is being around 10 years old and sitting under tea table bridge in Islamorada with a bucket of shrimp catching snapper while watching all the big tarpon rolling in the channel. I didn't know what tarpon were back then, but I would soon come to find out at a later age that this fish would completely change my life.
Q. Who or what was your biggest fishing influence?
A. During a crossroad in my younger years (where I had to choose between spending my saved money on a Remington 1100 Shotgun or G Loomis GL3 9wt fly rod), I chose a path to pursue fly fishing and eventually took a fly tying coarse sponsored by the Dade County Fair. One of the instructors, Capt. Frank Perez who would become my earliest mentor; introduced me to the world of shallow water fishing. Fast forward many years later, as I got older and more serious about fishing; Two individuals would directly and indirectly have a heavy influence in my fishing; Tim Mahaffey and Andy Mill. Tim would eventually become my next mentor.
Q. What is your favorite species to target
A. TARPON… put that in big bold caps, underlined italicized, with big neon flashing lights around it.
Q. What is your most memorable fishing experience?
A. My most memorable experience in fishing was feeling the fly line come tight to my first big tarpon on fly. It wasn't huge fish at 70lbs but the scenario that played out with this fish was one I would never forget. It was my first time specifically targeting tarpon on fly and we were fishing a basin filled with laid up tarpon, which was right around the corner from an area I had done a lot of redfishing before. After several shots, I finally figured out how to feed a clump of feathers and rabbit hide to one of these laid up poons. That initial bite and events that transpired after will forever be engraved in my memory. This fish tracked the fly 20ft before sipping it almost under the skiff. In one calm low and slow strip strike, the surface of the water exploded and fly line flew through the guides of the 4pc 12wt fly rod I was using. One coil of line came out in a knot and dislodged the 4 piece rod at the first ferule. This tarpon dashed straight into the reel's backing and from a distance, we could see the rest of the fly rod getting further and further away. We eventually caught up to this fish, put the flyrod back together, and after pulling on this fish as hardest I had ever pulled in my life at that time, we eventually brought this tarpon to the glove.
Q. What has been your worst fishing experience?
A. It is hard to think of just one worse experience in fishing but I feel like all the worse experiences are the ones where you have heated disagreements (using this term loosely) with others who share the same waters. This isn't a common occurrence, but it does occur.
Q. What are some of your other interests?
A. I am a big time foody. I think that is my next vice after fishing. Other than that, I am also into firearms, scuba diving, and most recently I am revisiting the world of hunting.
Q. What or where would be your dream fishing trip?
A. My dream fishing trip would be spending a couple of months fishing the beaches, backcountry, and flats in Australia. It just seems like a not so familiar world with a very familiar feel.
Q.What are some of your favorite places to fish?
A. I am fortunate to live close to all my favorite places to fish: Biscayne Bay for it's proximity and willingness to produce bonefish. Islamorada and Key Largo for the beauty of the bonefishing and tarpon fishing in crystal clear waters. The Everglades for it's wilderness and diversity. The Marquesas for it's beautiful scapes. Fort Myers for it's incredible tarpon fishery. Mosquito Lagoon for the challenging giant laid up trout. And last but not least, the Louisiana Marsh for those giant less educated redifsh.
Q. What are you currently fishing out of what boat or boats?
A.I have a love affair with fishing on technical flats skiffs. I currently run a Maverick Mirage 17 HPX-V2 powered by a light weight carbonated 2 stroke motor. This is hands down the best skiff ever made for the fishing that I do in my local waters.